Quarantine means time to drift back to an earlier version of myself. This started with a few Stageit "Shut In and Sing" shows. I would pick a few with artists I like, and then wait to be enthralled by someone I've never heard. It took 3 shows for that to happen, but it did. I'll get into that a little further down. I've also been learning how to do my own recordings. I'm not great, but I'm not as terrible as I thought I would be. The learning experience is welcomed.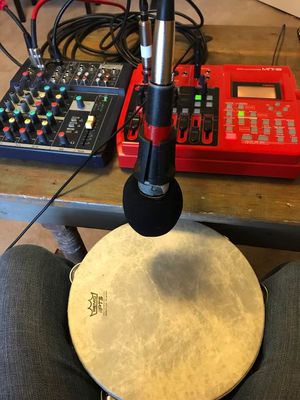 As for my own attempts as producing new music, I'm shamelessly putting it out there for everyone to hear. It's on my music page, in the player below, on Spotify, Apple music, etc. It's a big world, so it's making a tiny invisible splash across the internet. I'm past the idea that I will have a music career; as a songwriter or event producer. I just like making music. Plus, it opens my listening pathways so that I can hear emerging music again. 

I had lost that piece of myself, so I needed an ear lift. It hasn't been an overnight miracle. I know my ears are missing some really wonderful stuff, but it is emerging via all the streaming options. Many years ago, I published a little e-zine called "Stave." It was fun, but ultimately overwhelming. I was buried under requests and unsolicited CDs. Some very good, and some not quite there yet. What I made every effort to project was that no matter what anyone thinks, the creation of music is always good. Good for the creator, and good for the listener - even if the only listener is the creator.

I'm not going to lie. I totally listen to my own music. I obviously like it or I wouldn't make it. However, the best part of producing my own music is that I can mix varying genres via loops and shared files. So I may use a "blues" beat, a "folk" bass loop, and splash in some synth files. This is the ear lift, and now, I'm going to look for it. Look for creativity that subtly crosses the lines of what is "genre." And of course, if someone pulls off some perfect authenticity, I'm going to pay very close attention.

This post, I want to share Jaimee Harris. She'll be one of the performers on this Saturday's "Shut In and Sing," and I am making every effort to catch her set. She is a performer who clearly let gutsy masters like Patty Griffin, Lucinda Williams, Mary Gauthier, and maybe a bit of Neko Case influence her, and she is squarely on the path to being a common name among the best songwriters coming out of Austin.